我們致力協助本地的成年人,包括渴望提高競爭力的中學生、大專院校學生與在職人士。
We strive to help all local adults, including secondary and post-secondary school students and people in the workforce, who aspire to enhance their competitive power.
同時,我們擁有大量資源和豐富的市場經驗,致力為各界人士提供宣傳產品及服務的平台,有助他們向公眾發放信息。
Meanwhile, we are equipped with substantial resources and tremendous marketing experience to provide corporate clients with a platform to promote their products or services and to disseminate their messages to the public.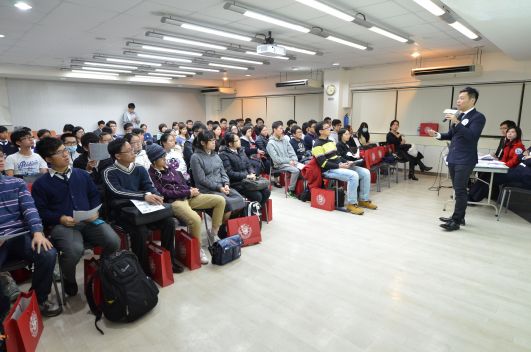 進修課程
我們提供各種持續進修教育,包括 IELTS 應試課程、其他外語及興趣課程,務求促進各階段學生的全面發展和學術知識的追求,並加強各界人士的職業訓練。
We provide continuous learning programmes in a variety of aspects, including IELTS teat preparation courses, foreign language learning and leisure activities. We aim to facilitate students of all levels their wholesome development and pursuits of educational excellence; and strengthen learners' skills in career development.
企業培訓
企業與機構
Corporations and Institutions
我們為全港各機構和組織提供優秀的訓練服務,並由本地著名的專業人士教授面試策略、商務寫作、演講及人際溝通技巧。
We provide institutions and organisations of all kinds in Hong Kong with excellent coaching services offered by celebrated local professionals in the areas of interview techniques, business writing skills, presentation skills, and communication skills.
中學教師及跨國企業的培訓
Training for Secondary School Teachers and Multi-National Corporations
馮強教授多年訓練政府及各類機構(如政府新聞處和香港科技大學)的行政人員,擁有豐富的在職培訓經驗。現時,他可為中學教師和跨國公司提供專業在職訓練。
Victor Fung, experienced in training executives working for the government and various institutions, such as the Information Services Department and The Hong Kong University of Science and Technology, presently offers professional coaching services to secondary school teachers and multi-national corporations in the territory.
面試與求職技巧課程
Courses in Interview Skills and Job-Hunting
劉煒全為前任香港證券及期貨事務監察委員會高級人力資源經理,提供面試禮儀和求職策略課程。
Johnson Sean Lau, a former Senior Human Resources Manager of the Securities and Futures Commission of Hong Kong, offers courses in professional interview etiquette and job-hunting strategies.
翻譯服務
我們為本港各組織、機構及個人提供專業翻譯服務,包括中英、英中、韓英、英韓、韓中、中韓、日中、中日、日英及英日的翻譯。
We offer various professional Chinese-English, English-Chinese, Korean-English, English-Korean, Korean-Chinese, Chinese-Korean, Japanese-Chinese, Chinese-Japanese, Japanese-English, and English-Japanese translation services to organisations, institutions, and individuals of all kinds in Hong Kong.
海外升學

環城海外升學中心(GES),夥拍擁有三十多年提供海外升學服務經驗的 Academic Advisers,為一眾莘莘學子提供優質和專業的教育服務,接通升學途徑,陪伴同學踏進國際學府,實現大學夢。
GES 為學生度身訂造的海外升學途徑,正是有助學生跳出香港,能以新思維、新角度發展才能,成為國際性人才,豐富人生的一項選擇。
Glocal Education Services is dedicated to inspiring our students to become global citizens, who will be fully equipped with rich and dynamic international experiences through our global partnerships with universities worldwide. We are also dedicated to providing outstanding and comprehensive counselling service to students.
網址 Website:http://ges.glocalgroup.cc/
Personal Statement 一對一指導服務
遞交 Personal Statement / Mission Statement(個人陳述)是申請海外升學必經步驟。Personal Statement 一般要求申請者闡述個人性格及專長等,以說服心儀大學取錄。不同國家和院校制度各異,對於 Personal Statement 的審核方式亦有所不同。遵理精英匯提供一對一 Personal Statement 指導服務,協助申請海外升學的學生準備合適的個人陳述。
One of the crucial steps to overseas study is the submission of personal statement (or mission statement). In order to get admitted to the desired university, applicants generally need to impress the institute by illustrating his / her personalities and qualities. Expectations of universities vary from institute to institute, nation to nation. We offer 1 on 1 Personal Statement Guidance to facilitate students' success in overseas studies.
英國升學 For Studies in UK:http://www.bexcellent.com.hk/uk-personal-statement-guidance/
美加升學 For Studies in US/CA:http://www.bexcellent.com.hk/us-ca-personal-statement-guidance/